Looking for Apokoronas properties for sale in Chania, Crete? Whether you're moving to Greece to enjoy life in Athens, Peloponnese, Chalkidiki or anywhere in between, you've probably considered buying property on the island of Crete. Property ownership in Crete is incredibly common– some 87% of residents own their homes thanks to a strong culture of family and inherited property. Despite the large number of "taken" homes in Apokoronas, however, there's still plenty of opportunity to snap up a little piece of paradise as your own.
If you're ready to take the plunge on Apokoronas property, this guide will walk you through everything you need to know about buying a home or land in Apokoronas, Chania, Crete.
Apokoronas Properties to Buy: The Villages
Browse among our exceptional Apokoronas properties and find your dream house, villa or plot in one of the most wonderfully areas in Chania, Crete. ARENCORES estate agents specialise in property for sale in Chania and can help you find the perfect Apokoronas home, villa, detached house, maisonette or plot.
Go beyond the ordinary listings and you'll find treasures aplenty, from exceptional stone villas and Venetian historic buildings, to contemporary structures built from steel and wood.
Agios Vasillis, Almirida, Armeni, Aspro, Douliana, Drapanos, Exopolis, Fres, Gavalohori, Kalamitsi, Kalyves, Kambia, Kefalas and Kera.
Kokkino Chorio, Litsarda, Macheri, Maleme, Neo Chorio, Nippos, Ombrogialos, Paleloni, Plaka, Tsivaras, Vamos and Xirosterni.
Things to Consider Before Buying a Property in Apokoronas
Many people have a dream of owning a property abroad and despite the fall in sales of Spanish, Italian and Portuguese properties and the rise in demand for holiday homes in  Croatia and Cyprus, the Greek real estate market offers many opportunities: in 2012 and 2013 more holiday homes in Apokoronas, Chania were purchased by German and English buyers.
So, if you are looking to buy yourself a property in Apokoronas here are the most interesting things to consider before you start your search.
Apokoronas Properties: The Villages
Whether you're looking for a holiday home, plot villa or a permanent residence, make sure you do your research. Apokoronas' villages are located in a diverse mix of  topography characteristics with green valleys and dusty plains and olive groves, so finding the one best suited to your needs should be your first priority.
For example, Almirida has an average winter temperature of two degrees higher compared to Kournas village. Summer temperatures in Apokororonas can exceed a blistering 38 degrees in comparison to Kalives' average of 25, and in March Vrisses on average has 37 mm (1.5 inches) of rain, whereas Georgioupoli only experiences a half of this.
If you're partial to a spot of trekking then Vamos or Gavalochori would be an ideal place to start your search. If you're more of a holiday resort lover, then maybe Georgioupoli or Almirida coastal resorts will be better suited.
The only way to truly decide upon any region is to visit it, and once you have made a decision then revisit at different times of the year; a coastal village may seem exciting when full of beach umbrellas and holiday makers, but how will you feel about it when the tourists have left? The mountainous Vamos village has charming, ancient spots to explore on a sunny June afternoon, but only those who truly love the place will still see the charm on a dreary January of February morning
Apokoronas Properties: Property Type
One thing to consider is will the property be a holiday home or a permanent residence. At first you may think that they would both have different considerations, but there's very little to separate them.
Obviously for a holiday home two of the most important things to think about are proximity to the  Ioannis Daskalogiannis Chania airport, the port of Souda and transport links. Extremely important is also the security and house maintenance during the period when the property will be unoccupied.
If you are choosing to locate permanently consider if you need to find a property that is closed to the basic amenities. If you are hoping to set up a business in Crete this will require serious consideration.
However, before you make any decision, consider this, many holiday home owners eventually become full time residents when they decide to retire.
Apokoronas Properties: The Location
What type of property would tick all your boxes? Some people will be content with a small detached house and sea view, whilst others may prefer a villa or a rural retreat.
Pay close attention to the type of house that you think will suit your needs as you may find your requirements change during your search. A villa in Fres may have a traditional charm, but consider how far away the nearest super market is located. If you want to come completely absorbed into everyday life, then a house in Kalives may be ideal, but don't forget to take into consideration the sound and traffic during the summer.
A rural property in Apokoronas has its own pros and cons: a positive is the tranquility and the spectacular views to the White Mountains and the Cretan Sea coupled with the opportunity to have your olive tress or garden. However, on the downside is the prospect of being snowed in during winter, the distance from local amenities and proximity to the hospital.
Apokoronas Properties: Restoration
A house for restoration may seem a bargain in comparison to a new construction, but before you even consider viewing anywhere, stake your time and start doing your research. See Chania Property For Sale: Pros & Cons Of Old & New Properties to better understand the difference between those two critical factors.
A Venetian house on Apokoronas may make a perfect restoration project, but will it be cost-effective? Look out for those hidden costs such as converting its use from a previous farming property (Pontikiana Old Olive Mill) to a modern residence. Make sure you check the land boundaries and if anyone has a contract to work it: it won't help your relationship with the locals and your neighbors if you suddenly tell Manolis that, despite a long-standing agreement, his family can no longer grow their tomatoes on your land.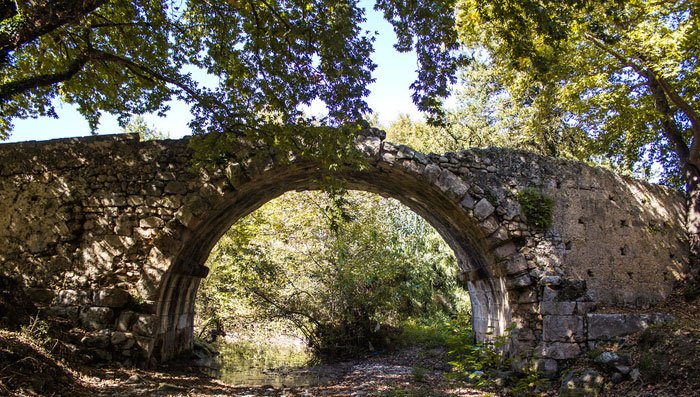 If you have decided on the locality where you wish to buy a property in Apokoronas, make enquiries at the local council offices or advised a professional consultancy firm about the cost of obtaining work permission and any restrictions. (Some owners had to repaint the outside of their properties as the color they had originally chosen was not on the council's list of acceptable colors .)
One thing to also point out is, if you view a property that is furnished, make sure you ask what is included in the purchase price. More often than not, when purchasing a property, the vendor will remove everything. If you want the furniture or the equipment then you'll need to negotiate a price and have the purchase written into your real estate contract purchase agreement.
Apokoronas Properties: The Community
Cretans are very hospitable towards foreigners and welcome both the increased financial support they bring to the community and the development of redundant properties.
If your grasp of the language is limited, then it might help to consider more populated villages like Gavalochori, Vamos, Kournas, or Plaka where the possibility of meeting local people speaking English is higher. Also  look carefully if there's an expat community nearby. Maybe consider joining one of the many forums online and use this to determine if the Apokoronas' village you have selected has any pockets of expats.
About Apokoronas
If you're looking for a land blessed by the gods, rumor has it Crete is the place. With an incredible Mediterranean landscape in conjunction with rich historic and cultural significance, Apokoronas, Chania is a destination for many tourists, travelers and expats.
Apokoronas extends from the foothills of the magnificent White Mountains north to the coast, in a wide plain with rolling hills.  The area is very green and fertile, unusual for the rocky and steep landscape of Crete. According to the Wikipedia "Tourism and agriculture are the major local industries, with much construction and quarrying to satisfy the demands of many foreigners eager to buy or rent properties in what used to be beautiful and traditional villages."
ARENCORES, Chania real estate experts recently published a property guide for the Apokoronas region with the latest real estate trends and plenty of information about the most interesting things to do and see in Apokoronas.
Chania Homeownership
In Chania, more than 87% of its residents own their own homes. In a city with such high home ownership rate, it is no surprise that property related discussions and inquiries are one of the hot topics.  People frequently talk about when it comes to property acquisition or real estate return of investment.
Property ownership in Apokoronas, Chania comes at a high cost, literally. With a small and dense population, it's inevitable that land and building cost for properties in Apokoronas, Chania are going to be high. Hence, it's important that you understand the basics of what you need to know before committing to a property purchase.
We have decided to compile relevant articles on Real Estate Chania that we think are essential reading. We hope this helps make your Apokoronas properties to buy journey towards becoming a property owner a little easier.
If you are entirely new to property, we recommend for you to read the articles in the links below in sequence. These articles have been designed to facilitate your decision making.[/vc_column_text][/vc_column][/vc_row]
# 1 Are You Buying For Homestay Or For Investing?
The first question is whether or not you are buying a property in Apokoronas, Chania for your own stay, or for investment purposes. This question critically matters, as it ultimately determine the type of property (home) size you need, the location you want and the property types that you should choose.
Your ideal residence in Apokoronas may not be a suitable investment property. Likewise, an ideal investment property may not be a suitable residential property that you want to live in. So you should always decide the intend behind your purchase and emotional motivations-if any.
Here are some useful articles that you can start off by reading if you want to know more about the latest Chania real estate trends:
Chania Old Town House for Sale – Lessons Learned
Chania Property For Sale: Pros & Cons Of Old & New Properties
Chania Property Market – Real Estate Trends in Chania
Real Estate Buyers Expenses
# 2 Do you know the Legalization Procedures?
Greek property law refers to the different schemes of regulating property rights between each jurisdiction of the territories in Greece; combining legislation and receptive of common law.
Greek property law refers to the law of acquisition, sharing and protection of valuable assets in Greece. In today's highly competitive real estate market, investment strategies and activities must not only deliver superior returns, but also meet more stringent regulatory requirements.
At the same time, operations are under pressure to improve procedures efficiency, ensure transparency, achieve compliance and enhance decision-making. You can read more about the Legalization procedures:
Property Legalization in Crete, Greece
Which administrative authorities regulate planning and zoning for real estate development and use in your jurisdiction and what is the extent of their powers?
According to the Constitution, the Greek state has exclusive regulatory competence and control over the Spatial Planning organisation. In some cases, the Ministries, as well as the other related executive bodies, are empowered to specialize the planning legislation. Moreover, private entities may initiate the city planning process.
Greece's spatial and city planning legislation (Chania Spatial Planning) was recently changed to provide a quick, easily administered and reliable spatial planning framework. You can read more about the current spatial planning requirements and procedures in:
Chania Spatial Planning & Environmental Permits
# 3 Other Costs Of Buying And Owning A Property
Aside from the purchase price of the property, there are other associated costs of owning a property that you can't afford to ignore. These include agent cost, resale levy and of course, renovation cost. Moreover, the additional real estate expenses of buying a property in Chania (Greece) are on average approximately 10% of the property purchase price. You can read more on Chania property buyers expenses dedicated article:
# 4 How much this  Property Actually Worth?
A property appraisal is a self-determining and independent estimate of the value of a real estate property by an appraiser using approved, standardized methods.
The valuation procedure is a systematic process the appraiser follows to answer a client's request about the value of a property. The magnitude of this important source of information generates an indispensable requirement for well – informed and reliable appraisals. This is very important to support decision making including, real estate disposition, value estimation, marketability, and the rights inherent in ownership.
You can read more about the Appraisal procedures and requirements in the next article provided by ARENCORES: